Our group was formed to encourage local St. Louis stamp collectors to exhibit in our local shows. Now that the Saint Louis Stamp Expo is a World Series of Philately accredited show, it is desirable that local collectors take home some of the prizes.
Saint Louis has a proud philatelic history. The first president of the American Philatelic Society, John Kerr Tiffany was a St. Louis businessman.
As the needs of our members evolve, we are prepared to evolve the group. We expanded our focus to include discussions of philatelic writing and techniques for PowerPoint presentations. If there is a need in the future, we will continue to evolve.
Meeting Space
| Nov 8, 2021 | Dec 13, 2021 | Jan 10, 2022 | Feb 14, 2022 | March 14, 2022 | April 11, 2022 | May 9, 2022 | June 13, 2022 | July 11, 2022 |
| --- | --- | --- | --- | --- | --- | --- | --- | --- |
| Zoom | Zoom | Zoom | Zoom | Zoom | Zoom | Zoom | Zoom | Revaluate |
We will continue to check our options
What We Do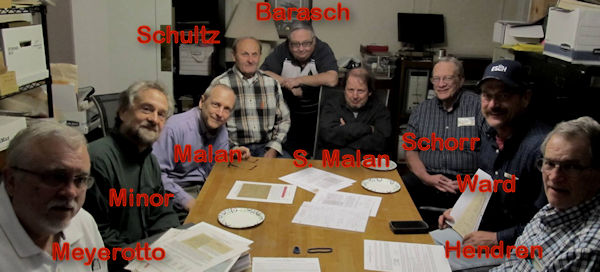 In the course of a year, we try to cover most subjects important to our exhibitors, for example (it can vary widely from this list depending on what people come prepared to show)
How to prepare title pages. What needs to be there. How to present your story line.
Writing a synopsis of your exhibit. What you can and cannot say.
St Louis Stamp Expo is days before our March meeting. We analyze what could have been done better.
How to set up an exhibit page using Microsoft Word. Here are the documents from the December 2011 meeting:
Help with mounting "hard to mount" items such as covers, complete sheets, over-sized things.
What will my material look like when it is projected on a wall?
We all have philatelic libraries; it is occasionally nice to know what others have that would help us out.
How to write-up your exhibit. What words to use. How much to write.
We look at members exhibits one last time before they head off to APS StampShow.
Picking the right archival "plastic" protection. What to do for over-sized pages, how heavy is heavy enough?